British Columbia Ski Tour
11 day guided Canada ski Vacation. Ski the best on your British Columbia ski tour.
travel bc's infamous powder highway and experience the best skiing in canada
This BC ski tour is the journey to Mecca for skiers who desire the best all mountain skiing British Columbia has to offer. Over the course of eleven days we travel in a full circuit along BC's infamous "Powder Highway", to four of the most heavy hitting ski resorts in North America. Your Powder Highway ski safari starts at Revelstoke Mountain Resort, known for the largest vertical and snowfall in North America, then proceed to Kicking Horse, famous for hair raising chutes and wide open ridges with stunning views of the Rockies. After a relaxing day of beautiful Powder Highway scenery and some of BC's best natural hot springs, we head to mythical Nelson, home of Whitewater Ski Resort with its dependable light powder and some of the best tree skiing on the Powder Highway and in Canada. A hot spring later, we roll to nearby Rossland and Red Mountain, which has always been an icon in all mountain skiing lore. These amazing four mountains are some of the least crowded in British Columbia with the most vibrant ski culture and some of the most beautiful surroundings.
Ski with a real local. We show you our secret stashes.
By choosing a guided safari ski tour, you experience way more during your Powder Highway ski trip and the best part is: we take care of everything. Don't worry about weather, driving times, ski conditions, rentals, lessons, ferry times, reservations or accommodations- that's our specialty so you can spend more time enjoying your ski tour. Your personal ski guide will safely transport you in our vans and will help you decide on the best dining and apres ski along the way. Our guides know the mountains on these ski tours like the back of their hands and they are keen to show you the best runs and secret stashes. With our guides you ski the stuff that locals ski and we can help you perform at your best. If you want more from you Canada ski trip put this British Columbia ski tour on your bucket list.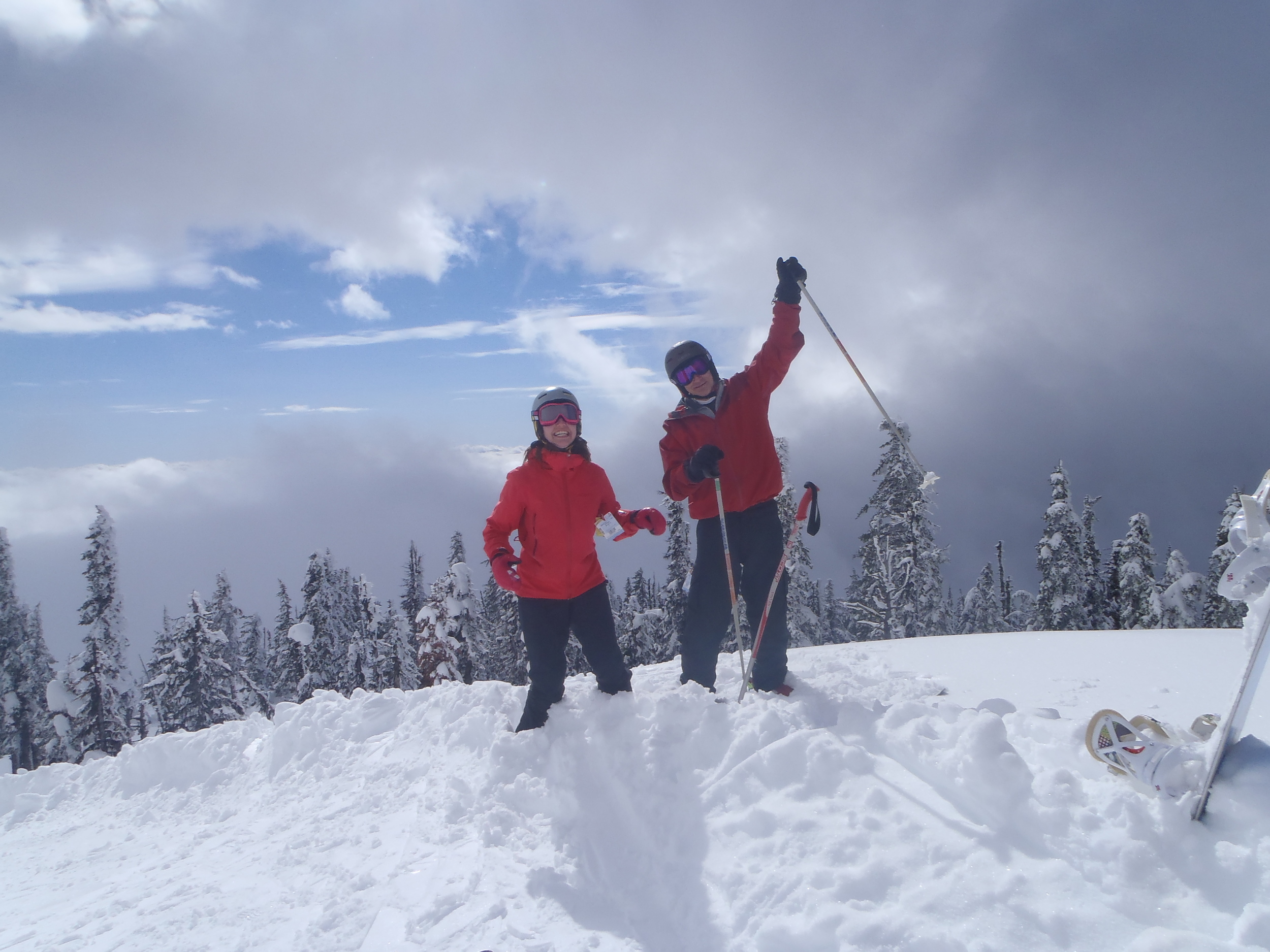 | | |
| --- | --- |
| Tour Length: | 11 days - 8 skiing |
| start/ end location: | Pick up and drop off from your Kelowna hotel. |
| Ski/ board Ability: | Beginner to Advanced (every mountain has options for all skill levels) |
| Terrain Breakdown: | 10% expert, 30% advanced, 40% intermediate, 20% novice. |
| Rentals/ Lessons: | Available at each mountain. We can help arrange these for you. |
| Dining/ Apres Ski: | Each town on your ski tour has some of the best apres ski in BC as well as an excellent choice of dining options. We will help you choose the best restaurants and make reservations. Your guide will also arrange group dining and apres ski options each night. |
| Accommodations: | Hand picked hotels, lodges and inns, in convenient locations for you. We prefer accommodations with hot tubs for optimal relaxation each day. |
| Optional Activities: | XC skiing/ snowshoeing, dogsledding, heli/ cat skiing, scenic flights, shopping and spas |
The Trip Of A Lifetime!
"I've done several ski trips to British Columbia and I can honestly say that this tour has been the best yet. Alex is an amazing guide, with a vast knowledge of everything that BC has to offer and an fantastic attitude towards his guests. Lodging was very comfortable and the skiing on the Powder Highway was incredible! Alex seems to know all the secret spots for untouched snow, secluded hot springs and great spots to eat. Looking forward to my next Fresh Adventure!!!" -Julian More Reviews On Powderhounds.com
+ 11 Day Tour Itinerary
Tour Itinerary (may change slightly due to weather or availability of activities. This is roughly what to expect).
Day 1: Kelowna Pick Up- Meet in Kelowna at your hotel, bus station or airport around 4 pm. Once we have gotten to know each other we hop in the van and head two hours North to the rustic mountain town of Revelstoke. We drive along beautiful cliff lined highway through 3 Valley Gap, and beside shimmering lakes. Get settled in your hotel before we hit the town for dinner as a group, or opt to do your own thing.
Day 2: Ski Revelstoke and Halcyon Hot Springs- Fill yourself on a hearty breakfast before we head up to the mountain for our first morning of epic big mountain skiing. Try your luck on the endless variety of chutes, head walls, pillow lines or rolling tree lines, or take a scenic ride down "The Last Spike", with views of Begbie Glacier. When you can't ski another inch we head back into town for a delicious dinner. Come along on an outing across a ferry to the other side of the lake where we soak in 104 degree Fahrenheit hot springs, beneath swirling night skies.
Day 3: Ski Revelstoke- Back at it today, we hit Revelstoke for another dream ski session. Get used to the terrain, because we're going to see a lot more of it! If you want a challenge hike to the shoulder of Mackenzie Peak and drop in on "Mania" or "Discipline" to experience some world class steep skiing. At the end of the day we go for another well earned meal, or you can roam around the quaint town on your own.
Day 4: Ski Kicking Horse- We start off by heading through Roger's Pass, infamous for its avalanche tunnels and towering peaks, on our way to Golden. Take the gondola to the top of Kicking Horse to enjoy the incredible 360 degree views, before dropping in on hair raising chutes and tree runs. Although Kicking Horse has plenty of beginner terrain, it is known for the abundance of steep, gnarly chutes, tree runs and pillowy bowls. Ride top to bottom runs to torture your legs, or keep to the top on aptly named "Stairway to Heaven" chair. Relax with views of the "Dog Tooth Range" and excellent dining options.
Day 5: Ski Kickinghorse- Hit Kicking Horse for another powder filled day with million dollar views of the Rocky Mountains. Hike past the chair to charge epic powder runs in "Whitewall", if you dare, or sip a fine glass of wine in the Eagle's Eye Lodge at the top of the mountain. Eagle's Eye is renown for having the best ski lodge view, which is sure to drop your jaw. Don't forget to squeeze in some après at Whitetooth, a local favourite.
Day 6: Roadtrip And Secret Hot Springs- Sleep in a bit and relax, today we are driving South through the "Valley of a Thousand Peaks", stopping in for a delightful soak in Lussier Hotsprings. These hot springs are a completely natural flow of hot spring water in a rock pool on the side of Whiteswan River. Ease your muscles in the hot water and take in the beautiful surrounding gorge and river. We continue through Cranbrook, where you debark if you are on the 6 day tour, then head West for Kootenay Pass. Once we climb the rugged pass we descend into Nelson, an almost mythical town in the heart of the Kootenays. For years Nelson has been attracting people's attention with its legendary community spirit and local based economy. This tiny town of roughly ten thousand is home to close to 80 bars and restaurants as well as countless cafes, shops and even Oso Negro, a must try coffee roaster. We are confident you will not be bored in Nelson, where we stay for 3 nights.
Day 7: Ski Whitewater and Ainsworth Hot Springs- Dining and nightlife is not all Nelson has in spades. Head up to Whitewater for some world class steep tree skiing, that will have you whooping with the locals in no time. Hit "Backside" for the pillow rides of your life, or see how tough your legs are on "Sproulers". Whitewater also has tons of friendly groomed options, and lodge food that is voted best in the world. So good in fact, that they came out with a much desired cookbook. Instead of the usual ski hill microwaved poutine, try the Ymir Bowl, or healthy salads that will leave you inspired. Don't worry they have inspiring burgers too! Of course we enjoy a much needed soak in Ainsworth Hot Springs, where you can wander deep into the hand chiseled grotto for the hottest water.
Day 8: Ski Whitewater- Hit the rugged, snowy slopes of Whitewater for another incredible day of launching off everything and narrowly avoiding every species of tree. Impressive Ymir peak towers above the ski area and makes for really incredible photos. The patio at the bottom is always in the sun, and is usually a perfect place to grab a cold beer while watching the crazy locals rip down the steepest moguls on the mountain. Try Cantina for some delicious Mexican food, or Mike's Place to mingle with the lively locals.
Day 9: Ski Red Mountain- Hit the road bright and early and get to Red Mountain in good time. You are about to learn why Red is considered a beast in the all mountain skiing scene. From the top of the chair you can ski in any direction you want and arrive at a chair! Tear down tight trees, chutes, cliff lines, massive pillows, open ridges or some playful, easy groomers. Just remember to hit Rafters at the bottom for some good food and beers. We enjoy some of Rossland's amazing selection of dining options, before a good night's sleep.
Day 10: Ski Red Mountain- This is your last day to torture your legs so make it count. Good thing Red Mountain just made one of the biggest expansions in ski resort history, adding 1600 acres of new terrain on Mt Grey. You will quickly see why Red is consistently rated one of the top freeride resorts in Canada. We dine as a group, and reflect on all the good times we have had during the tour.
Day 11: Return To Kelowna- Enjoy a nice cafe breakfast before hopping in the van. We head 5 hours back to Kelowna, where are you dropped off at your hotel. You can expect to be at the airport, bus station or your hotel by 2 pm today. You may be leaving, but you will always be part of the Fresh Adventures family!
included
Transportation in comfortable van.

Expert guide for entire trip.

Light ski or snowboard coaching if desired.

10 nights accommodation

8 lift tickets (with lift ticket package)

3 hot spring excursions depending on tour option.

Pick up and drop off at hotel at tour start and end.
excluded
5% local tax.

Trip cancellation/ travel medical insurance.

Meals and alcohol.

Rentals and lessons (we can arrange these for you).

Getting around in each town during free time.

Travel expenses before and after the tour.

Optional extra activities.
Powder Highway ski tour dates:
✔ All Departures Are Guaranteed. Tours fill quickly so please book early!
December 28, 2019 - January 7, 2020

January 18-28, 2020

February 1-11, 2020

February 15-25, 2020

February 29- March 10, 2020

March 14- 24, 2020
powder highway ski safari package options and rates
You can opt out of the lift tickets on this tour for IKON/ EPIC Pass holders or to relax. All prices subject to 5% local tax.
11 day tour with 8 lift tickets: $3595
11 day tour without lift tickets: $2995
11 day tour single supplement: $995
Book Your Tour
More Ski/ SNowboard Tours Like This
9 Day Ultimate Powder Highway roadtrip pt 2
9 days
The ultimate road trip on the Powder Highway and Canadian Rockies. Hot springs, Explore Sunshine, Lake Louise, Kicking Horse and Revelstoke.
6 Day Powder Highway Ski/ Snowboard Adventure
6 days
6 day guided ski/ board trip on the Powder Highway. Three Canadian mountain towns and hot springs. Ski Revelstoke and Kicking Horse.
9 day Canadian Rockies Ski/ Snowboard Tour
9 days
Guided ski/ snowboard trip in the Canadian Rockies. Soak, dine, relax and ski Sunshine, Lake Louise and Kicking Horse with locals.