9 Day Rockies Hiking and Camping Adventure
GUIDED HIKING | CAMPING | HOT SPRINGS | RAFTING | GONDOLAS | HORSEBACK RIDING | HOT SHOWERS | GOURMET FOOD | EPIC VIEWS | LOCAL GUIDES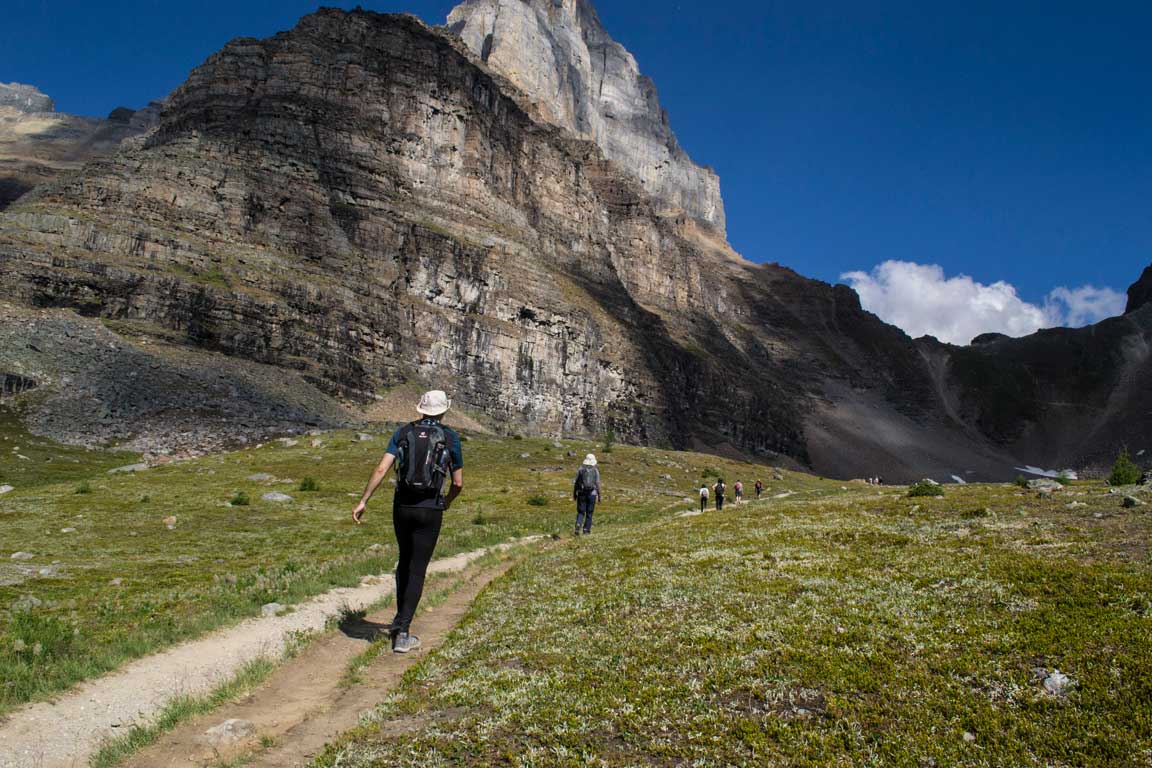 Hiking Tour Quick Details
| | |
| --- | --- |
| Tour Length: | 9 days/ 8 nights |
| start/ end location: | Pick up from Calgary hotel, drop off in Banff at 5 pm on day 9 with optional shuttle to Calgary DT or Calgary Airport available. |
| Fitness Level: | We cater to all fitness levels with flexible options, although this tour is ideal for moderately fit people. Expect to hike 4-16 km per day with some elevation gain. |
| Food: | Gourmet food prepared by your guide for all diets. All meals are included from pick up to drop off. |
| Accommodation: | Comfortable and eaasy camping as a group. Single or double occupancy in high quality 2 or 3 person tents with good sleeping pads. |
| Required Equipment: | Sleeping bag (or rent one), your personal clothing plus good walking footwear, towel, bathing suit, daypack, sunscreen, water bottle, sunglasses and camera. |
| Activities: | Hiking, gondola, hot springs, plus optional whitewater rafting, horseback or train ride, Banff activities. |
Rockies Hiking and Camping Tour Dates
✔ ALL DEPARTURES ARE GUARANTEED.
July 5-13, 2020

July 26- August 3, 2020

August 9-17, 2020

August 30- September 7, 2020
9 DAY HIKING AND CAMPING ADVENTURE PRICES
(All prices are subject to a 5 percent local tax and are subject to change). Prices in $CAD.
HIKING TOUR BASE PRICE: $2395
SLEEPING BAG RENTAL: $50
SINGLE TENT UPGRADE: $350
Book Your Tour
Tour Description

Welcome to the ultimate hiking tour for anyone looking to get off the beaten path and explore the Rockies with real local guides. This small group adventure is the perfect way for you to experience many of the best hikes in Canada, along with the chance to see virtually every lake, waterfall, view point and glacier in the Rockies in one go.

During your nine day tour you will be immersed in endless wilderness, while exploring four of Canada's most iconic national parks. Hike among majestic peaks in Banff, get up close and personal with glaciers in Jasper, feel the power of water and ice in Yoho and search for wildlife in Kootenay while learning about the natural processes that shape this land. During your tour you can opt to try some extra activities, including rafting, horseback riding, mountain biking and much more. Stand directly under one of the tallest waterfalls in Canada, walk behind another, see glaciers from up close, search for wildlife, swim in a glacial lake, soak in hot springs, count shooting stars, raft down a mighty river, hike through the wilderness, feast on gourmet food and best of all, spend every moment outside in the freshest air on earth. Live the adventure!

Your professional local guide has taken care of everything on your guided hiking tour, so all you need is to show up with a smile and a pair of shoes. We provide the camping gear, reserve the campsites, take care of all the driving, and have spent years crafting the ultimate tour itinerary to make sure you see more and spend less time in a van. Time to escape the crowds and see the same Rockies that the locals enjoy on your active tour. Don't worry, we will still stop at all the famous attractions so you can take a photo and then we ditch the coach buses and go places much more amazing.

This adventure tour is perfect for anyone travelling solo, with a friend, partner or small group, and suitable for all skill levels. Most of the hikes have smaller options so you can take it easy if you don't feel up for the full guided hike.

Your expert local guide will prepare a mouthwatering menu, rich in healthy, fresh meals. We source our food from local farmers, most of whom are within a day's drive of where your tour takes place. You can count on a delicious variety of seafoods, quality meats, Canadian cheeses, fresh fruit and produce from Western Canada. Oh yeah, there are also hot showers and opportunities to charge your electronics along the way, and you don't need to carry your luggage from place to place. We are excited to meet you and spend an amazing week together!

Itinerary

Day 1- Meet your new adventure buddies as we pick you up from any hotel in downtown Calgary between 3:30 and 4 pm and head 2 hours west into the heart of the Rocky Mountains. As we leave the grasslands behind and enter a rugged world of mountains and glaciers, we immerse ourselves in a week of adventure and exploration during your hiking and camping tour. As a group we set up camp in Banff National Park, go over a detailed orientation and learn to use the camping gear like a pro. After a delicious meal prepared by your guide we head out for a small night walk to a nearby waterfall or lake. As the sun sinks below the mountains and the stars come out we settle down for a relaxing night, sleeping in some of the freshest air on earth.

Day 2- Wake up to the smell of coffee and a campfire before we enjoy a tasty breakfast and prepare for the first full day on your guided hiking tour. Today we will be doing an iconic day hike near Banff, gaining epic views of the surrounding mountains and a chance to understand the majesty of the peaks from up close. Once your legs are properly worn out on the guided hike you can relax during a tour of Banff town centre, hearing some wild tales from the early beginnings of life in the Canadian mountains. We show you some of the highlights in one of Canada's most renown mountain towns, including a visit to the famous Banff Springs Hotel, a walk down Banff Avenue, Bow Falls, the Hoodoos and more! Relax back at the campsite and enjoy another hearty meal as a group.

Day 3- After another refreshing night of clean mountain air we pack up camp and hop in the van for a day full of exploring alpine valleys and peaks on a guided hiking tour. Today we head to Lake Louise, stopping at both Moraine Lake and Lake Louise, before hitting the trails to a beautiful hanging valley nearby. Enjoy the incredible views of Victoria Glacier, the shimmering waters of two glacial lakes with an unbelievably blue glow, and the pristine air that smells like Christmas with every breath. Did we mention that there are towering peaks in all directions, making you feel like an ant as you walk below them?! After the hike we continue North onto the Icefields Parkway, and diverting out of the national park system to a lesser known area that is too beautiful and sacred to even name online, for fear of it becoming more popular. (This is the beauty of a tour led by real locals. We are taking you off the beaten path to secret areas in the Rockies that are far less touristy and much more amazing!) Tonight we camp along the shores of another beautiful mountain lake with a secluded beach and opportunity to star gaze during your small group adventure.

Day 4- Enjoy a relaxing morning and some opportunity to rest with the smell of freshly baked cinnamon buns being made over a campfire. Test out your photography skills during a guided hike to a nearby lake, waterfall, mountain ridge or all three (depending on conditions and the group). The secret area we are camping in has perfect access to more trails and attractions than you could explore in a lifetime and the best part is that the crowds all pass right by, a mere 30 kilometers away. After your big guided adventure we relax at the campsite with some time to go for a swim in the lake and roast marshmellows over a campfire.

Day 5- Today we pack up camp and continue North towards Jasper. Along the way we stop for one of the most scenic hikes in the Rockies. One great thing about this hike is that you get million dollar views of the Saskatchewan Glacier from up high, but the road actually winds up a hill on the back of the ridge so you don't have to hike as high as you normally would for such a beautiful view. After a gorgeous picnic we take a quick waterfall break where you can actually walk behind a thundering waterfall. This is another very secret part of the tour so we won't get into details, but you will be able to walk below a cliff, along a ledge right into the back of the waterfall and watch the water thunder past an arm's length away. Tonight we are camping in Jasper National Park, right along the Athabasca River, where elk often walk by with their young. You have been hiking hard and your legs must be getting sore so tonight we head to Miette Hot Springs for a relaxing soak in some therapeutic, natural spring water.

Day 6- If you are on the 9 or 12 day tour you will have some freetime this morning to explore the rustic mountain town of Jasper, checking out some of the shops, walks and museum as you desire. You are able to rent bicycles and pedal to a nearby lake or try out your cowboy/ cowgirl skills on a guided horseback tour. We meet again for lunch and then go on a guided hiking tour to a nearby canyon or system of beautiful spring fed lakes. After a gourmet meal we take a gondola up to the top of a mountain overlooking Jasper, so you can enjoy some incredible mountain vistas during sunset without having to work so hard for them.

Day 7- Today we head South along the Icefields Parkway. This is one of the most photographed driving routes in the world, and you will soon see why. We have planned this tour to cover the entire Icefields Parkway during the morning hours, which is when the light is best for the most awe inspiring mountains and lakes along this road. You will be learning about the early pioneers who paved the way for travel across Canada, and enjoying some pretty awesome sights at the same time. We stop for a couple of shorter hikers with incredible views of glaciers, waterfalls and lakes. Today we hike directly under one of the tallest waterfalls in Canada, and stop at the Athabasca Glacier and Columbia Icefields area, where you can see one of the largest glacier systems in North America. We leave Alberta behind, entering British Columbia and Yoho National Park, camping along the shores of the mighty Kicking Horse River.

Day 8- Today you have the opportunity to try out a guided rafting adventure on the Kicking Horse River, which we really recommend. We spend the entire tour showing you the mountains by land, teaching you how the ice forms the landscape in a battle between rock and water. This is the perfect chance for you to experience this from up close, deep in the bottom of a canyon, seeing the area from an angle that we can't show you without a raft. If rafting isn't your thing you can also join your guide for a hiking adventure in Yoho National Park. You will likely be hiking with views of a massive waterfall in the distance, a glacier nearby and some world class mountain peaks surrounding you. If the group feels like it we can go on a night excursion to see another amazing waterfall, or just relax by the campfire.

Day 9- This morning we pack up our camp and head through Yoho National Park to hit the attractions that we missed before. While the morning sun casts the perfect lighting on the surrounding mountains, we will hike around Emerald Lake, or up to Yoho Lake, depending on the group and weather. If you feel brave enough you can jump into Emerald Lake, which is one of the best lakes to swim in during this guided small group tour in Canada. After your hiking tour we stop for a quick coffee/ snack in Field where you can see mountains towering above the old railway stop, and sometimes see elk crossing the river. As we head back into Banff, you have some free time to walk down Banff Avenue or go for a craft drink at the brewery or distillery. If you are on the 9 day tour, this is where you depart with options to hop on a shuttle to Calgary, Calgary Airport, or be dropped off at any hotel in Banff. We aim to have you in Banff by 5 pm, so you can catch any bus after that and should be able to be at Calgary Airport by 7:30 pm.

Inclusions

8 nights camping accommodation (double occupancy)
3 gourmet meals per day from pick up to drop off
Transportation from pick up to drop off in van and trailer
Park passses
Hot pring entry fees
Expert local guides
Gondola Pass
Use of our quality camping gear (Tent and sleeping pad. Sleeping bag is optional)

Exclusions

Personal alcohol
Optional activities
Optional personal transportation around town during free time
Getting to and from the tour
Trip cancellation/ travel medical insurance (highly recommended)
Single tent upgrade, sleeping bag rental
7 day Rockies Camping Adventure
7 days
Guided Hiking, Camping, Rafting, Horseback, Hot Springs and Gondolas.
5/6 day Vancouver Island camping Adventure
5/6 days
Camping, Hiking, Ocean Cruises, Kayaking, Surfing and Hot Springs.
6 Day Rockies Hiking and camping Adventure
6 days
Guided hiking, Camping, Gondola, Hot Springs and more.